Pediatric hematology and oncology in Denver
The specialists within the Rocky Mountain Pediatric Specialists medical group provide comprehensive, state-of-the-art care to children with cancer and pediatric blood disorders. Our team includes skilled pediatric oncologists and hematologists, board-certified nurses and an experienced support staff. We offer hope and healing for children to manage their blood disorder or to beat cancer so they can grow, learn and lead healthy, productive lives.
For more information on our cancer and hematology services, please schedule an appointment with us.
Your network for pediatric cancer care
Your child and family can trust our medical expertise and take comfort in our commitment to easing your fears and treating your child. We provide supportive, family-centered care for kids with cancer and blood disorders to help manage acute pain, side effects of treatment and stress. We also offer nutrition and health maintenance guidance in support of our ultimate goals of lifelong health and childhood cancer survivorship.
Whether you are dealing with childhood cancer or blood disorders, we work closely with your child's primary care physician and other healthcare providers. Through a collaboration with Rocky Mountain Hospital for Children at Presbyterian/St. Luke's Medical Center, we provide an extensive team of pediatric specialists from diagnosis throughout treatment to help ensure your child has the best, most comprehensive care available.
Childhood cancers we treat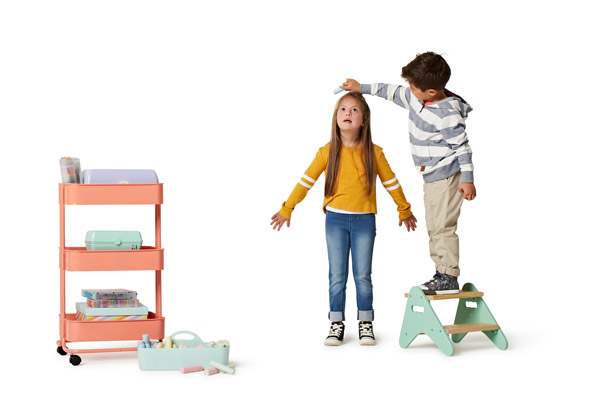 We treat many rare and common pediatric cancers, including:
Acute lymphoblastic leukemia — the most common childhood cancer
Acute and chronic myeloid leukemia — a cancer of the blood and bone marrow
Ewing's sarcoma — a type of tumor that forms in bone or soft tissue
Eye tumors
Germ cell tumors — growths that occur from reproductive cells
Hodgkin and non-Hodgkin lymphoma — cancer of the lymphatic system
Langerhans cell histiocytosis — a rare childhood cancer
Myelodysplastic syndromes — cancers in which immature blood cells in the bone marrow don't become mature
Neuroblastoma — a disease in which cancer cells form in immature nerve tissue in the adrenal glands, neck, chest, or spinal cord
Osteosarcoma and other bone cancers
Rhabdomyosarcoma and other soft tissue tumors
Tumors of the kidney and liver
Pediatric cancer treatment
In our pediatric outpatient center, we offer infusion services for administering chemotherapy, biotherapies, antibiotics and other medicines.
Together with the Rocky Mountain Hospital for Children at Presbyterian/St. Luke's Medical Center, we offer modern diagnostic technology and surgical techniques to ensure our pediatric patients receive the best hematology and oncology treatment.
Additional cancer services and resources
Patient and family support
Nutritional planning
Stress management
Assistance with chemotherapy effects
Childhood cancer survivorship guidance
Ongoing health checkups
Pediatric hematology
Our pediatric hematologists in Denver provide full-service care for noncancerous blood disorders. Being diagnosed with a blood disorder means part of your blood is unable to do its job correctly, like not carrying enough oxygen to the rest of your body or not clotting properly. Blood disorders can be genetic or can develop due to dietary issues or a side effect of other diseases.
Symptoms of a blood disorder
Symptoms of blood disorders in children often include:
Bleeding that is hard to control
Easy bruising
Frequent or unexplained nosebleeds
Ongoing tiredness
Wounds that don't heal properly
Blood disorders we treat
In addition to malignant blood diseases, we treat a wide range of disorders that are not cancerous. Some of these conditions include:
Alpha thalassemia
Anemia
Aplastic anemia
Beta thalassemia (Cooley's anemia)
Bleeding disorders
Hemolytic anemia
Idiopathic thrombocytopenic purpura
Iron deficiency anemia
Megaloblastic (pernicious) anemia
Thalassemia
Our hematology specialists do a thorough examination and diagnostic testing to accurately determine a patient's condition and create a customized treatment plan. While a patient's medical needs are at the forefront of any plan of care, we understand and take into account the emotional concerns and needs of our patients' families as well.
Treatment for pediatric blood disorders
Certain blood diseases can be managed with straightforward approaches, like dietary changes or even simply keeping a watchful eye out for increased or more severe symptoms. Other types of treatment include medications, antibiotics, blood tranfusions, infusion therapy and, in some cases, surgery to remove the spleen or gallbladder if those organs are contributing to the condition.
Our pediatric hematologists will take the time to discuss the best treatment plan for your child and will work with their pediatrician to ensure they receive the most comprehensive care possible.
Clinical trials
When a child is diagnosed with cancer, families want them to have the best and most advanced treatment possible. One way our staff ensures this is by being a member of the Children's Oncology Group (COG) and by participating in clinical trials they offer to qualified candidates.
A clinical trial is an organized method to learn the best way to treat cancer, minimize the short-term and long-term effects of cancer treatment and discover ways to prevent cancer. They are among the fastest and safest ways to find treatments that work against pediatric cancer. Nearly all cancer drugs in use today were tested and made available to patients through clinical trials. Due largely to clinical trials, childhood cancer mortality has decreased by more than 50 percent in the last 40 years. Many children today are benefitting from research that was done on children in the past.
As the world's largest children's cancer research group, COG unites researchers at more than 200 leading children's hospitals and cancer centers. This means your child has complete access to the latest research and world-class treatments at Rocky Mountain Hospital for Children. We believe that by participating in a clinical study, your child is not only being treated by their oncology doctor but also by an entire team of leading experts in the treatment of children's cancer.
To qualify for a particular study, all children must meet a carefully defined set of criteria. These usually relate to age, cancer type and disease stage.
Pediatric oncology locations
Retrieving location data...